Well, manslaughter actually, but that doesn't have quite the same ring to it!
Our story begins way back in September 1893, with nine-year-old Arthur Payne milling about his back garden at 19 Grange Road, Lower Pontnewydd.
The Paynes had moved to Pontnewydd from Worle, Somerset, in about 1890 when Arthur's father, James, found work as a farm labourer at Llantarnam Grange. By the time of the 1891 census the household consisted of James and Eliza Payne, James' younger sister Annie, and their six children: Arthur, Ernest, Gilbert, James, Jane and Grace.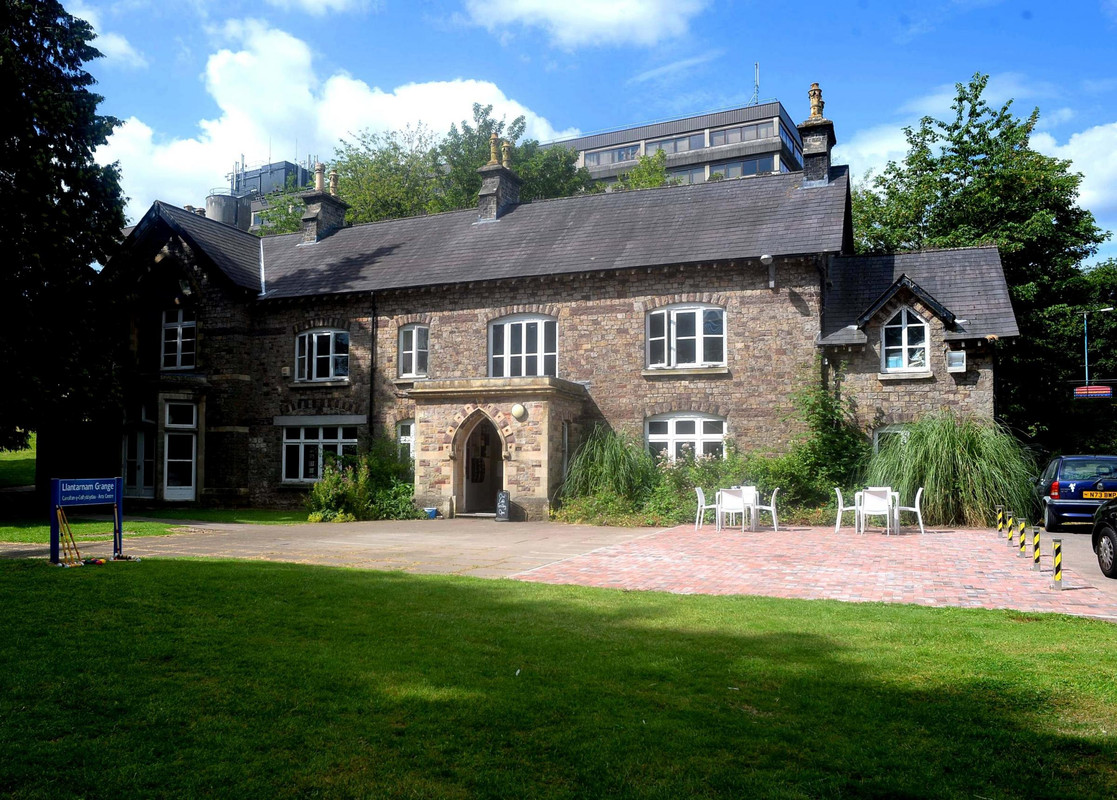 What was once a farm is now an arts centre; Grange Road is now an access road running alongside the Meritor site.
Notwithstanding the sad death of baby Grace in January 1892, the children tended to be in good health. Another daughter, Lily, joined the brood in the November of that year, and the older boys settled into their new schools. Arthur had felt a little ill during the week in question, with a bout of diarrhoea on the Wednesday, but it had been mild enough for him to still attend school as usual.
On Saturday September 16th Eliza went out to run some errands at about 3pm, and Arthur went out into the yard to play.
Meanwhile, next door, a perfect storm was brewing.
The Parkers were of local stock; John had been born in Trevethin in 1847 and Margaret (nee Hibbs) was born in Cwmbran in 1851. The pair married in December 1871 and had since bounced around the Eastern Valley, John moving from one job to another as their family expanded. By 1893 the couple were living at Grange Road with their eight sons: William John, Francis, Stephen, Thomas, Isaac, Charles, Arthur Zephaniah, and Archie. Their eldest child, daughter Amy Ann, had left to get married in 1891.
That Saturday, William (19) and Thomas (13) were arguing over a necktie. The dispute had already turned physical when John got in from the pub shortly before 4pm. Taking in the sight - and having spent the afternoon drinking - John reacted by grabbing William by the throat and unbuckling his belt, intent on dispensing a good thrashing.
William, unsurprisingly, did his best to squirm free and ran out into the backyard, John trying to hit him with the belt all the way. When William succeeded in putting some distance between them, John made a grab for a piece of wood 'shod heavily with iron' he saw lying on the kitchen windowsill. He threw it at William and succeeded in hitting him on the back of the shoulder. Only for it to rebound over the low garden fence and hit poor Arthur Payne in the head.
Despite the blood gushing from the 5.5 inch wound, William Parker said he didn't think it looked overly serious. He would only reassess that judgement when he heard Arthur had been taken to the doctor.
Eliza returned home just before 4pm, and Arthur ran to meet her and show her his head, saying, "Look, mother, at what Mr. Parker has done." Eliza staunched the blood flow, bathed it, and took Arthur to Dr Charles Stander Bowker of Cwmbran House, Pontnewydd, to have the cut stitched and bandaged.
Arthur had lost a lot of blood and though he went to bed at the usual time, Eliza sat up with him until about 3am. On Sunday morning he got up and had his breakfast, but began complaining of pain in his head at about 11:30 am and said he wanted to lie down. He got up again at about 1:15pm and said he felt sick. By 1:30pm he was vomiting, which was followed by a serious bout of diarrhoea. By 2:30pm Arthur was so ill he had to be carried back to bed.
Dr Bowker was called in that night and found Arthur to be very anaemic and weak. He was suffering from a severe attack of diarrhoea and Dr Bowker was informed of the bout earlier in the week; Bowker treated him for it and gave him brandy. But Arthur never rallied, complaining continually of the pain in his head until, at 1:30 am on Monday 18th September, he breathed his last.
---
Later that day - Monday 18th September - Dr Bowker, along with Dr Campbell, carried out a post-mortem examination on Arthur and found his organs to be healthy. The head wound, he recorded, was only through the scalp, and not into the deeper structures of the head. All the organs were healthy excepting the lungs which were a little congested, possibly due to post mortem. The brain was healthy and there was no fracture of the skull. There was a slight contusion of the muscular parts underneath the skull. Bowker attributed the cause of death to shock and collapse, accelerated by the boy's weak condition. In the soft tissues above the skull there was a puncture, which corresponded with the point of the stake produced at court.
The police, who had been unable to find him on Sunday when the matter was brought to their attention, arrested John Parker on Monday afternoon.
The following day, Tuesday 19th September, the Coroner's inquest was held at Cwmbran police station, presided over by Mr W. Roberts Jones, the coroner for South Monmouth, with Mr. Supt. James, Pontypool, representing the police authorities. Elizabeth Payne identified Arthur's body, and explained the circumstances of his death to a jury lead by Mr. W. J. James.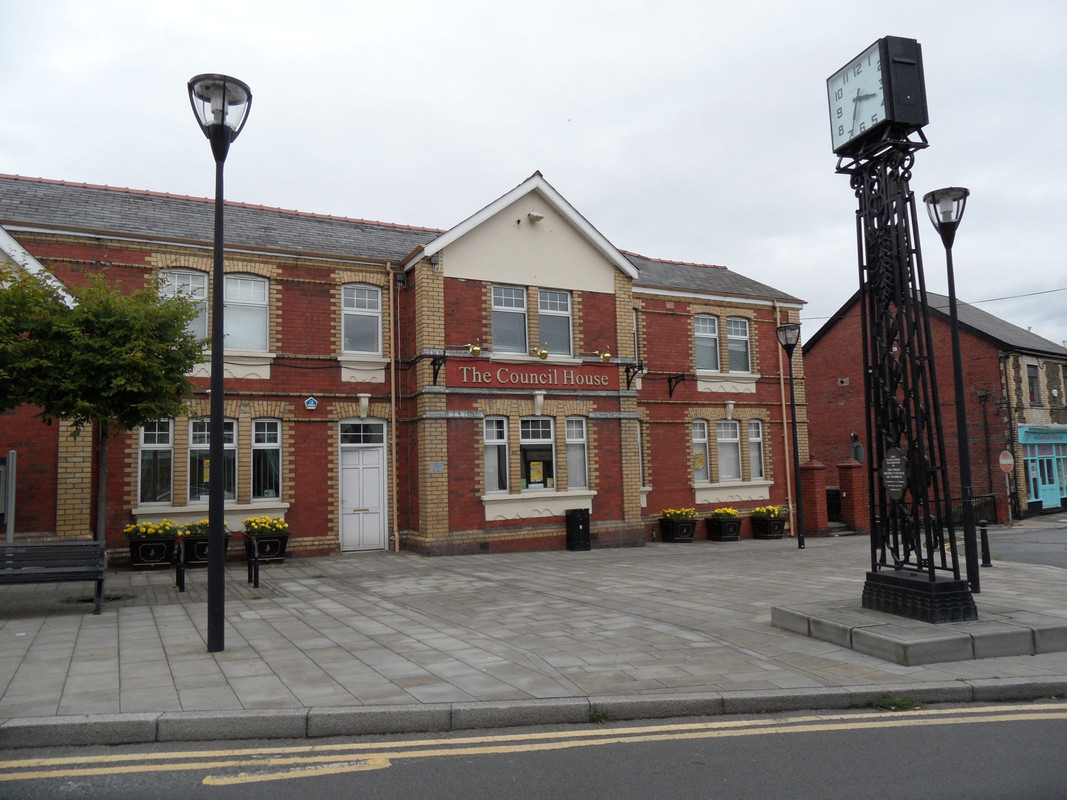 Today the old Cwmbran police station and police court serves as the offices of Cwmbran Community Council.
Next William Parker gave evidence. Stephen Parker (15) then corroborated his older brother's statement. Mary Ann Hughes, their neighbour at 14 Grange Road, confirmed the boys' version of events. Dr. Bowker recalled how he saw Arthur on the Saturday, suffering from a wound about five inches long near the right temple. There was no fracture of the skull or concussion of the brain. He did not regard the wound as a dangerous one. He should say that the cause of death was shock, accelerated by weakness and diarrhoea. The iron produced might have caused the injury he saw.
P.C. Keylock told the inquest that he had failed to find the prisoner on Sunday but apprehended him on the Monday, charging him with causing the boy's death. In response Parker said to him, "I had no intention of hurting the little fellow."
At this point the coroner summed up before the jury retired to deliberate. They returned with a verdict of manslaughter. Although the Coroner agreed to accept bail, set at £50 with two sureties of £25, they did not prove forthcoming and Parker was taken into custody to await trial at the next county assizes
On Wednesday 20th September a special court was held at Caerleon police station, before magistrates Mr. D. W. Jenkins and Mr. J. Lawrence, where the previous day's evidence was repeated. The only substantial change to the day before was that Parker was allowed to speak.
Following Eliza's testimony Parker said, "I have no questions to ask her. I 'shot' at my own boy." Later, after being cautioned, he told the magistrates that he had been drunk.
The Bench committed him to trial and again agreed to take bail if it could be raised. When it couldn't, Parker was removed to custody.
---
That Thursday, 21st September 1893, Arthur was buried.
Life for the Paynes only went from bad to worse. Arthur had been dead less than a week when his younger brother, eight-year-old Ernest James, also succumbed to diarrhoea. He was buried on September 26th, the service conducted by the same vicar, Rev. Robt. Wm. Bury Sanderson.
It's difficult to even fathom how awful their situation must have been that winter. Two of their little boys were dead, and Parker remained in prison awaiting trial meaning their neighbours were left without any source of income.
The Paynes had come to Cwmbran for a fresh start. I bet by this point they couldn't wait to get away from the place...
---
The trial finally began on Friday 1st December 1893.
Mr Justice Cave took his seat at the Shire Hall in Monmouth at 11am, following a morning service at St Mary's Church and a procession through the streets accompanied - so recorded the Evening Express - by a detachment of the Monmouth troop of the Gloucester Yeomanry Hussars, a posse of county police, the high sheriff (Mr Arthur Evans of Llangibby Castle), the chaplain (minor canon of St George's, Windsor), the Mayor of Monmouth (Mr. William Honeyfield), the under-sheriff (Mr. J. Moxon) and the usher (Mr H. Peach).
The grand jury were sworn in, consisting of: Mr. S. C. Bosanquet, Mr. T. J. Beynon, Mr. J. T. Firbank, Mr. George Hoskins, Mr. J. D. James, Mr. A. Clarke Jones, Mr. R. Laybourne, Mr. Ebenezer Lewis, Mr. H. L. P. Lowe, Major Mansell, Mr. F. J. Mitchell, Mr. M. Mordey, Mr. F. T. Protheroe, Mr. Isaac Butler, Major Carnegie, Mr. T. Pugsley, Mr. F. W. Raffarel, Mr. R. Rickards, Major Wallis, Mr. Alfred Williams, Mr. Hopton Addams Williams, Mr. P. A. Williams, and the foreman Sir H. Mather-Jackson.
Judge Cave in charging the jury said they had an average number of cases to try, but was glad to say the offences were not so serious as one would have expected. There were, it was true, two cases of manslaughter to be inquired into, but neither of them was of an aggravated character.

Case 1. George Augustus Haines, 22, printer and letter-carrier detained 158 letters through gross neglect of duty. Sentenced to three months prison.

Case 2. John Davies, 45, labourer, indicted for unlawfully wounding William Lanman with a knife in a pub brawl in Usk. Superficial wound but still guilty. Justice Cave told prisoner that a man who was quarrelsome in his cups must be punished and sentenced him to 12 months hard labour.

Case 3. Thomas Armstrong, 37, labourer, pleaded guilty to breaking and entering at the Bush Hotel, Nantyglo, and stealing spirits, cigars and a ham (value £3.10s.). Sentenced to 12 months hard labour but, as he'd been waiting four months for trial, it was reduced to 10 months.

Case 4. John Parker, 47.
Mr. T. Morgan Philips prosecuted, the prisoner was undefended.
It was explained to the court that on Saturday September 16th Parker came home to find two of his sons arguing over a necktie, one had the other by the throat. Parker attempted to get the older by the throat, at which point William ran out the back. Parker followed shouting "I'll give it to you, you ----!" Prisoner pulled off his strap and tried and failed to hit William. Then picked up iron-shod stake (produced) from the windowsill and threw it at him. It caught him on the shoulder and 'tamped' off, going over the fence and hitting Arthur in the head. The boy bled very much and ran into the house.

Prosecuting counsel asked the doctor: "To what do you attribute the boy's death?"

Bowker: "It is a case in which it is impossible to give a definite opinion. He was suffering on the Sunday from diarrhea, and that, I think, was sufficient to cause death, though I think the blow accelerated it. I think death itself was due to diorrhea. On the following Sunday a younger brother of the deceased was taken in the same way, and died in four or five hours."

Judge: "In what way, do you think, did the blow accelerate death?"

Bowker: "By hastening the collapse."

Judge: "To what extent do you think it accelerated the death?"

Bowker: "I do not think the boy, in the condition he was, would have lived more than four or six hours."

In summing up his Lordship pointed out to the jury that the case was one of difficulty of medical evidence. Testimony was very vague and unsatisfactory, and said it would have been well if the prosecution had obtained a second medical opinion to make the matter more conclusive.

Parker was duly found Not Guilty, acquitted and discharged. Western Mail, Dec 2nd 1893, said: 'the decision was hailed with some slight demonstration of approval from those in court.'
---

Afterwards...

As best as I could tell from trawling genealogy records, the Paynes moved away not long after the trial finished. By Autumn 1894 they were living at Cornerswell Farm, Penarth, and welcomed another son, Arthur Ernest, named in memory of their two lost boys.




But their bad luck only followed them; in 1894 they had to bury two more children, Gilbert and Lily, within a month of each other.

In the

1901 census

the Paynes are living on Cornerswell Farm, Cogan, Cardiff. James was listed as a cattleman.




I lost track of them after that but I sincerely hope their luck improved and they got to see their remaining children live to adulthood. If you know more I would love to hear from you!
---
Sources:
★ Cardiff Times, p4. (
23/09/1893
)
★ Cardiff Times, p3. (
09/12/1893
)
★ Evening Express, p3. (
02/12/1893
)
★ Monmouthshire Beacon, p5. (
09/12/1893
)
★ South Wales Daily News, p4. (
20/09/1893
)
★ South Wales Daily News, p4. (
21/09/1893
)
★ South Wales Daily News, p3. (
02/12/1893
)
★ South Wales Echo, p4. (
20/09/1893
)
★ Western Mail, p.7. (
21/09/1893
)
★ Western Mail, p6. (
02/10/1893
)
Family Tree Records:
James and Eliza Payne (nee Brown), married 1883.
- Arthur, 1883 - 1893. (born 21/09/83)
- Ernest James, 1885 - 1893. (baptised 06/09/85)
- James, 1889 - ? (baptised 26/12/89)
---
For more like this please click the image below: