Head Lice. You want to scratch already, don't you? They're most common in children aged between four and eleven, but anyone can potentially pick them up from head-to-head contact. They've no preference for clean or dirty hair, and
can even be found on eyebrows and eyelashes
.
So what are they?
Parasitic insects that grow up to 3mm long. They can stay alive for up to a month or more by sucking blood from the human scalp.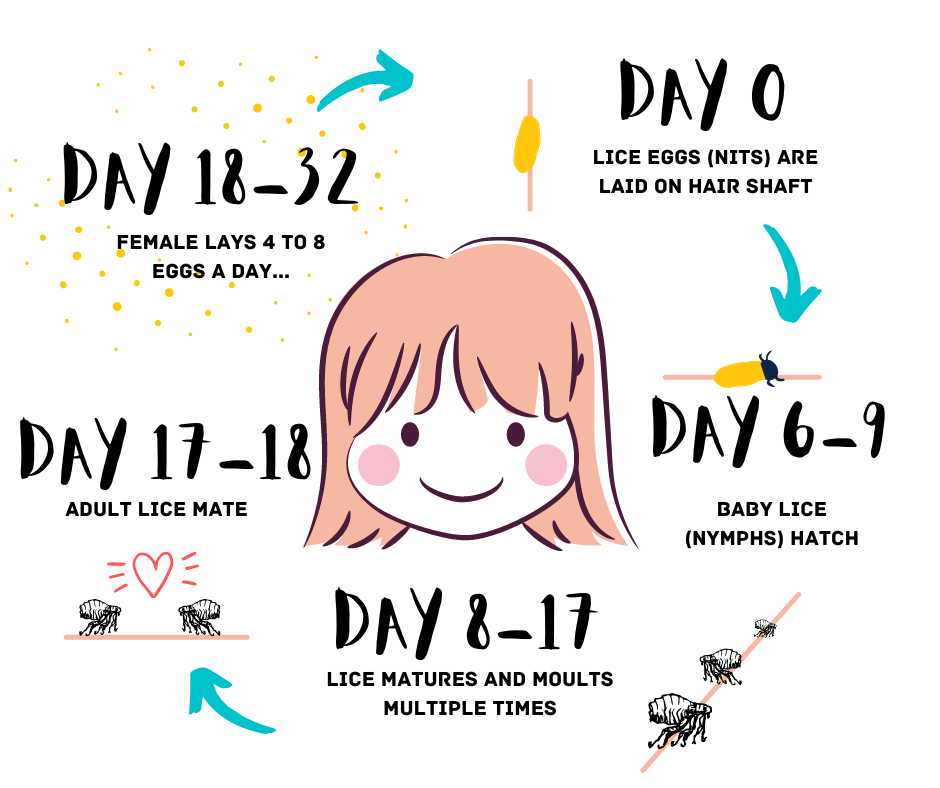 Left untreated, as you can see, you could soon find yourself battling an infestation.
As always, prevention is better than cure. Once you know lice are doing the rounds try to encourage children to keep their distance from each other and not to share their belongings. Lice can live up to 48 hours away from a host so, if belongings are all bundled together, there is a chance they could spread even without direct head-to-head contact.
Before Christmas Marianna's school asked for hair to be worn close to the head as there was an outbreak in her class. We duly plaited and pinned it - and then found at the end of the day she had managed to attach herself to another kid via bobby pin and pull it all out. Because, with the best will in the world, no measure is 100% kid proof!
That's where
Vamousse
can take some of the pressure off. Their protective shampoo is pesticide free and can be used as often as needed to help kill lice before they lay eggs. For best results use daily for at least two weeks, lathering a generous amount into wet hair and leaving for at least 3 minutes before rinsing.
If it's too late for prevention, Vamousse head lice treatment is scientifically proven to kill 100% of lice and eggs with one 15 minute treatment. Just divide dry, detangled hair into three or four sections and methodically work through the mousse from root to tip. Once hair has been fully saturated for 15 minutes you can begin using the included nit comb to remove dead eggs and lice. With that done, you complete the treatment by shampooing and drying the hair.
For a chance to win your own set of Vamousse Protective Shampoo and Head Lice Treatment please fill out the Gleam widget below:
Note - the prizes have been #gifted by Vamousse. Good luck!